Notting Hill Carnival 2018:
This year's Carnival is set to be a good one. The weather has been fantastic, the events look amazing, and the parade itself is always a day to remember. There are a multitude of great food stalls to sample and bopping music to enjoy, plus the vibe will be absolutely incredible (as always). For the super eagers ones among you, there are also a couple of warm up parties to get the party going sooner, and after parties so the fun doesn't have to stop!
Warm up parties
Fabriclive Carnival Special https://www.timeout.com/london/nightlife/fabriclive-carnival-special is held on Friday night at Fabric nightclub, Farringdon. It kicks off at 11pm and continues for 7 hours. The track list includes genres such as dancehall, jungle, reggae, grime, and Afrobeat in one room, and drum & bass in another. There also live performances from Rum'n'Riddim. Visit their website to book tickets.
The Notting Hill Carnival team have organised a steel band music competition, complete with street food and dancing, to be held at Emslie Horniman's Pleasance from 6pm until 10pm on Saturday. It's free and fun for all the family, so head on down for some great entertainment.
Your Mum's House x Carnival Warmup https://www.timeout.com/london/nightlife/your-mums-house-x-carnival-warm-up is held on Saturday night at Village Underground nightclub, Shoreditch. It starts at 10pm and finishes late. Come along for hip-hop, bass, future sounds and party bangers, plus a 'secret guest', whom the venue assure has had some of the biggest tunes of the year. Check the venue's website for tickets.
Sunday
Sunday is Family Day, which (as the name suggests) is highly recommended for families. The day starts with a traditional J'ouvert at 6am, marking the beginning of Notting Hill carnival, in which the parade of steel bands, riddim bands and African drummers makes its way through the streets before finishing at 9am.
Throughout the day from 9am to 8.30pm, there is also a Children's Parade to enjoy. The costumes are bright and exciting and there are many kid-inspired floats to see. What's more, you can relish plenty of traditional Caribbean food from the event stalls, plus great music with performances from the Association of British Calypsonians.
Monday
The main event: Monday. This is the day for adults.
The Notting Hill Grand Finale Parade is sure to be a show-stopper, full of incredible performances, food and drink, and entertainment. There will be a whopping 60 bands playing over the course of the day, plus music booming over the static sound systems https://nhcarnival.org/sound-systems-1/ .
Live stages https://nhcarnival.org/live-stages/ are where you will find a number of up-and-coming artists performing various genres of music, whereas mas, Brazilian and steel bands will be following the parade https://nhcarnival.org/parade/ .
Route
Here is a map of the Notting Hill Carnival 2018 route. Come prepared – it's a long one!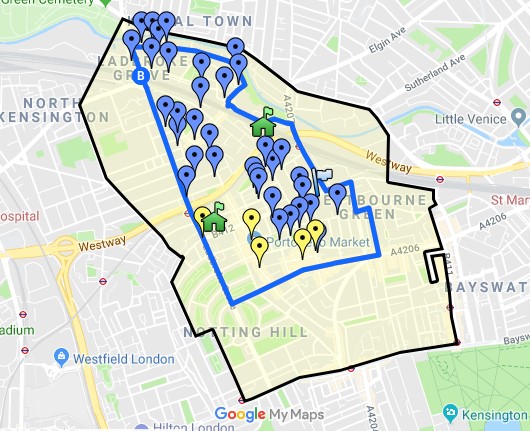 After parties
Stevie Wonderland Carnival Afterparty https://www.timeout.com/london/nightlife/stevie-wonderland-carnival-afterparty#tab_panel_3 starts on Sunday at 10pm and finishes at 5am. Hosted by Stevie Wonderland and crew, the annual after party at the Bussey Building features a tropical mashup of house and disco, plus shed loads of glitter. This year's lineup includes Romare, Auntie Flo, Mr Mendel, Alexander Nut, Donna Leake and Ba'nana Hill DJs. You can purchase tickets from their website.
Metalheadz Carnival Afterparty https://www.timeout.com/london/nightlife/metalheadz-carnival-afterparty#tab_panel_3 starts at 10pm at Egg London. There's plenty of drum and bass to be enjoyed here, as well as sets from 2 Bad Mice, Commix, Doc Scott, Randall, and many more. There will also be a 2 hour set from a special mystery guest. Tickets available on their website.
We hope you have a great time at Notting Hill Carnival 2018. As one of the biggest Caribbean Carnivals in the world, you're more than guaranteed to have a great time.
To experience a truly authentic Caribbean Carnival, check out some of our flight and holiday deals to various Caribbean locations. Carnival season is always booming and it's a highlight for the islands. Hot spots are Trinidad and Tobago, the Bahamas, Jamaica and Grenada.