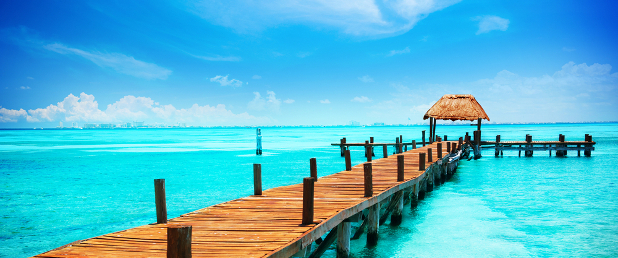 Holidays to Isla Mujeres
An island found off the eastern coast of the Yucatan Peninsula, close to Mexico's Cancun province is the Isla Mujeres. Spanish for "Island of Woman", the island is easy to navigate, only stretching 7km in length and many of the excursions are close together.
For water lovers, activities like snorkelling and scuba diving are plentiful around the coast, the Manchones Reef offers beautiful coral sites in addition to the delightful reefs of Cuevones and Banderas. Whale shark diving is available between the months of May and September, with as many as several hundred whale sharks come to the area. Tours are available up to 10 people offering a meal, diving gear and usually a visit to a colourful local reef in season.
For beach goers, Playa Norte and Playa Sol stretch along the northern coast and boast quaint facilities in the way of bars, restaurants, and hotels bordering shimmering white sandy shores and spectacular warm waters. The south has symbols reflected the islands history, Isla Mujeres once was a sanctuary to the Mayan goddess Ixchel and at the southernmost tip of the island you'll discover a stunning temple to Ixchel; the area also features a Modern Art Sculpture park. Beach bars lining the main streets offer laid back evenings of entertainment, while shopping is a pleasure with an array of humble boutiques to explore.